Cooperages 1912 Napa, a Fourth-generation Family Company Invests in Cal Poly's Future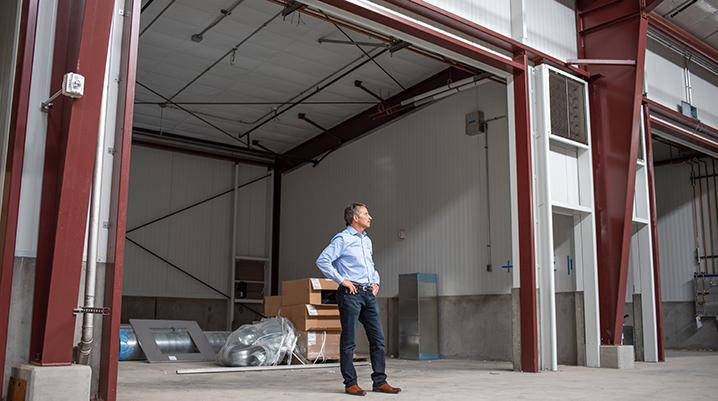 Andrew Thulin, dean of the College of Agriculture, Food and Environmental Sciences,
in front of the soon-to-be barrel room.
Cooperages 1912 Napa, a Fourth-generation Family Company Invests in Cal Poly's Future
When Gary Kroll, a barrel consultant at Cooperages 1912 Napa, heard about the new winery being built at Cal Poly, he contacted Brad Boswell, CEO of Independent Stave Co., parent company of Cooperages 1912 Napa, to ask about the possibility of naming a barrel room in the winery. As a Paso Robles resident, Kroll was excited about the company engaging with Cal Poly students and supplying its high-quality barrels for the university's winemaking operations.
Within days of Kroll's inquiry, Boswell enthusiastically affirmed corporate support of the project, saying they were "excited about the project and loved the vocational aspect of a working winery."
Elizabeth Van Emst, general manager of Cooperages 1912 Napa, said, "We have historically supported the education of Cal Poly students by donating barrels as well as consulting on barrel experiments with our Director of Research David Llodra. The new winery will allow us to contribute to these future winemakers' education on a much larger scale.
"The barrel room will provide students the opportunity to learn more fully how barrels can elevate the wine, and this hands-on experience will be an advantage as they graduate and secure jobs in wineries around the world," Van Emst continued.
When the winery opens in 2021, the Cooperages 1912 Napa, The Boswell Family Foundation Barrel Room will be a centerpiece of it, in recognition of their generous $250,000 donation to the project.
Cooperages 1912 Napa and the Boswell Family are committed to supporting wine and spirit education programs throughout the U.S. In addition to Cal Poly, they have partnered with programs at Fresno State, UC Davis, Washington State University, Sonoma State University, University of Missouri and University of Kentucky. They have been donating to colleges and universities for the last 12 years, with pledges totaling over $3 million dollars.
"The new winery at Cal Poly was an ideal opportunity for our company to invest in the future of winemaking in California and beyond," Boswell said. "As a fourth-generation, family-owned company we are committed to educating young winemakers on the optimal pairing between wine and barrel, and we look forward to the opportunity to innovate with Cal Poly faculty and students for generations to come."